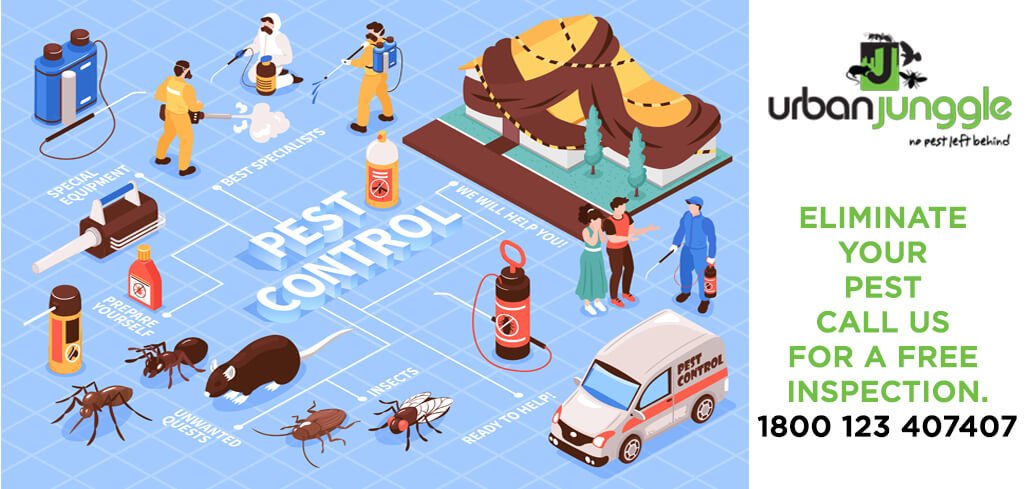 It is said that if you're finding yourself in a hole, you should stop digging. Exploring DIY solutions might work in some cases where the pest invasion is small but when dealing with bigger, more complex pests, it is better to let the professionals handle it. There might be pests like wasps which are stinging insects and might cause a deadly allergic reaction. In such cases, a qualified person has a plan of attack which guarantees results, knows how to minimize risks and carries access to products, equipment and knowledge that you might not have. Here are some more reasons about why to invest in a professional pest control service:
To Find the root cause of infestation
Experienced personnel like Urban Junngle's employees, know how to find the accurate reason of the pest invading your house or office and work to eliminate the pests permanently.
Saving a Ton of time and effort
Gain the know-how about pests and how to get rid of them requires a lot of time and effort. Some tricks might not even work, and you might end up getting in an even worse condition. Using successful pest control services, on the other hand, would avoid wasting your time as they have expertise in what they do.
If you keep waiting for a pest to go away, you will end up causing serious damage to your furniture or your house or office. It is better to let the people who have detailed information about it handle the problem without delay.
You can also save some money if you directly go to the specialists. How? It's simple. If you directly reach out to Urban Junggle, our skilled staff will solve your issue and save you the money you would have spent had you tried to treat it yourself.
Put a Full Stop To Pest Problems with Urban Junggle
The work suits best in the hands of the one skilled to do it. You might think that the chemicals being used would be harmful to you, but they are not as deadly as staying at home with pests or spraying chemicals on your own. Doing so will only increase the germs and therefore diseases you, your family and your employees might catch. If you want to Put a stop to your Pest Control problems, click here to read more or contact Urban Junggle and let us help you do the same.
Soon the rain clouds will start covering the sky, they bring with them tons of bugs and masses of diseases. Monsoon is the season when the insects are at an all-time high. During this time dengue, malaria, typhoid fever, gastroenteritis infections spread like wildfire. This makes it essential for you to be attentive and take preventive steps.Why worry about pests all the time and ruin the fun? Make the best out of your monsoon, check out these tips on keeping bugs at bay:
Insects can fit in from any small entrance they might find into your house. Closely examine and seal any gaps around the doors, windows, pipes or chimneys and any cracks that might exist on the exterior wall. You could also add a wire mesh on your doors and windows so you can enjoy the air while also staying safe from the insects.
It is a well-known fact that stagnant water becomes a breeding ground for insects. So, one of the easiest ways to avoid pests in your home is to keep a check on the water tanks, drums and buckets by keeping a lid on them. Along with it, regularly drain water from flower vases, coolers, plant pots. Adding a few drops of kerosene oil to drains would also prevent any breeding.
Growing Pest Preventive Plants
What is better than to have greenery around you which also protects you from bugs? Planting basil and mint work as a natural pesticide as they prevent insects from entering the house while also killing mosquito larvae. Bay leaves are also great herbs which would keep flies and roaches away.
Cinnamon powder can be found in every kitchen and can be put to use to steer clear of pests by putting sprinkling it in all corners of the house. Other oils such as neem, lavender or eucalyptus oils likewise have strong odours which drives insects away and can be sprayed in the room or applied on the skin.
Wood being a vital food for many bugs like termites and white ants, needs to be properly covered before the rain. Make sure the items are completely dried and disinfected before bringing them into your home. This would ease the worry of catching pests in the rest of your house.
Keep Your Home Pest Free With Urban Junggle
If you follow these tips correctly, we assure you that your monsoon will be pleasant. And if somehow you do find some pests coming around, Urban Junggle is ready to help. We have been working against pests to guarantee that you get your home or office back from these tiny creepy crawlers.If you wish to Keep Your Home Pest Free.
One of the wise proverbs to live by is "a stitch in time, saves nine". Trying to handle pests yourself would only increase the amount of money you lose, leading from the damages the pests cause and the money and effort you waste trying to handle it. On the other hand, hiring a professional would be a safe choice as they know pests well and can assess and solve the problem in a better way. There might be some pests which may go unnoticed but here are some sure ways to know if you need pest control:
If you're going through the house or office at places where pests are most likely to be and you find pest droppings or urine marks, you are facing some pest problems for sure. You can also get an idea of what pest you might be dealing with from the size of the dropping. You should immediately contact a good pest control company if you see such droppings or marks.
It is very common to discover holes and gnaw marks if you have pests. For example, mice and rats are commonly the ones behind the bite marks on furniture or cables and it should be taken as a huge red flag. If you see such damage happening, don't wait, call Urban Junggle up and let us do what we're best at.
Rodents like to create nests in the places they've decided to reside in. It can be made of various things they can find across the house like shredded paper,grass clippings, leaves, or scraps of fabric. If you see such a nest, hire a professional pest control and let them help you out.
Have you noticed any grime along the walls or in other parts of your office or home? It might be because of rodents as they rub their bodies and usually walk adjacent to the walls. These heaps of dirt are not good for you, your family's or your employee's health and should be taken care of without more ado.
Urban Junggle: Solution to a Pest Free Home
These are some sure shot indicators of having small uninvited guests at home and if you want to know How to Keep Your Home Pest Free, click here. Urban Junggle is here to solve all your pest problems. Give us a call or book an appointment to see us do our job and get you your home or office back from the pests who are haunting it. If you're still unsure if you have a pest problem or not, we provide a free inspection of your home and office. Click here or contact us to know more.